< Colorful transparent Acrylic panels
¡@
< Approved by UL, CSA, TUV, FCC & CE
¡@
< Support Intel & AMD CPU
¡@
< Option:
- Second fan for 8cm or 12 cm
- Power Factor Correction (PFC)
- AC relay
- Color coating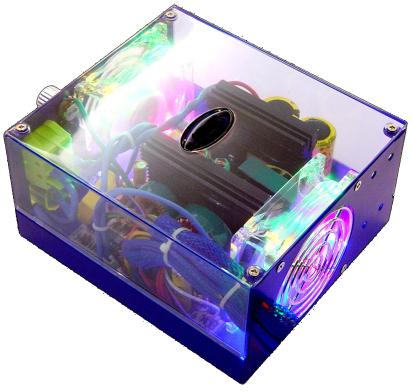 Transparent Power Supply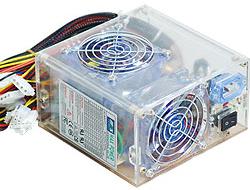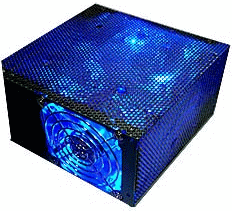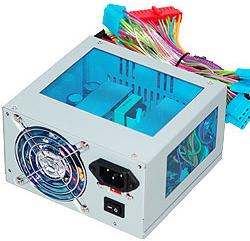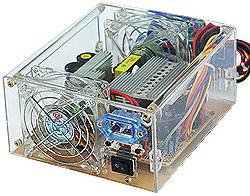 Feature:
Transparent acryl top cover design makes the inside construction clearly and let you know its working status at any time ,Nice combination of convection fan and speed-control knob can regulate fan speed freely.

Specifications:
AC INPUT VOLTAGE: 90 TO 132 VAC OR 180 TO 264 VAC (USER SELECT SW)
AC INPUT FREQUENCY: 50/60Hz
AC INPUT CURRENT: 6A RMS MAX. FOR 115 VAC
3A RMS MAX. FOR 230 VAC
MAXIMUM INRUSH CURRENT: 50A FOR 115 VAC COLD STAR
100A FOR 230 VAC COLD STAR
LINE REGULATION: ¡Ó1%
LOAD REGULATION: ¡Ó5% (ONLY -5V, ¡V12V¡Ó10%)
MINIMUM CURRENT: +5V/2.0A +12V/1.0A
RIPPLE&NOISE: +3.3V/80mV +5V/80mV +12V/150mV
-5V/200mV -12V/240mV +5VSB/80mV
EFFICIENCY:70% MINIMUM AT FULL LOAD
OPERATING TEMPERATURE: 0¢J~+50¢J CENTIGRADE
STORAGE TEMPERATURE: -40¢J~+85¢J CENTIGRADE
STORAGE HUMIDITY: 10%~90%
MAEN TIME BETWEEN FAILURE : 20K HOURS MINIMUM AT 25¢JAMBIENT
SIZE(L*W*H): 172mm*150mm*85mm
¡@
| | |
| --- | --- |
| 500W 8cm Ti-Coating UV with BLUE LIGHT | 500W 8cm Blue-Coating UV with BLUE LIGHT |
| 400W 12cm Ti-Coating with BLUE LIGHT UV | 400W 12cm Blue-Coating with BLUE LIGHT UV |
| 400W 8cm Black-Coating UV with GREEN LIGHT | 400W 8cm Blue-Coating UV with ORANGE LIGHT |
¡@
ATX Divine Power Switching Power Supply Backed by International Approvals, including: UL, CUL, TUV, SEMKO, NEMKO, DEMCO, FINDO, FCC, CE, and BSMI
¡@
Model No.

Dual

Fan
- Supports Intel ATX 12V ver.1.1 & 2.03 Standard.
- Compliant With AMD K7 (Athlon).
- 2 High Quality Bearing Fans, Suitable For "ALWAYS ON" application.
- Fast Cooling, Low Noise & Ripple.
- Fan Grill & Gold Plated Connectors, Preventing Rust & Bad Connection.
- I/O Short circuit & Overload Protection Design.
- LED fan (Optional)
- Golden-coated connector
- Golden Heat-sink
- Active PFC (Optional)